High voltage power supplies modern, robust and powerful
We offer a wide range of solutions around power supplies for high voltage applications, from single modules in standard series to customized high voltage generators and HV systems. The spectrum of our high voltage power supplies includes output voltages from 1 kV to 150 kV in power ratings from 2kW to 210 kW in parallel operation. The matching accessories complete our range.
The highlights of our high voltage power supplies
Rugged current fed technology
High frequency design for fast transient response and low output ripple
High efficiency through the partial use of SIC (silicon carbide) modules
Very low stored output energy
Patented arc current limitation to max. 5 times nominal current
Very fast and adjustable arc detection and fast response
Easy adjust of control and steering parameters due to digital technology
Fully digital control leads to
Fast control loop
Fast reaction on unsteady events e.g. an arc
Smooth tuning of the process
Logging of the essential supply data for the most supplies
Bootloader for service and software updates
The high voltage power supplies include a modern current fed converter technology, a digital regulation and a configurable arc management. The extreme compact high voltage devices use our patented current limitation, which restricts the output current to max. five times of the nominal output current. Therefore the process runs more smoothly and stable, which leads to better results.
For more convenient control every high voltage power supply is delivered with a galvanic isolated analogue/digital I/O-interface and RS232-interface. The interfaces are partially powered by a separate 24 V supply. This ensures communication with the high voltage device even when the interlock circuit is open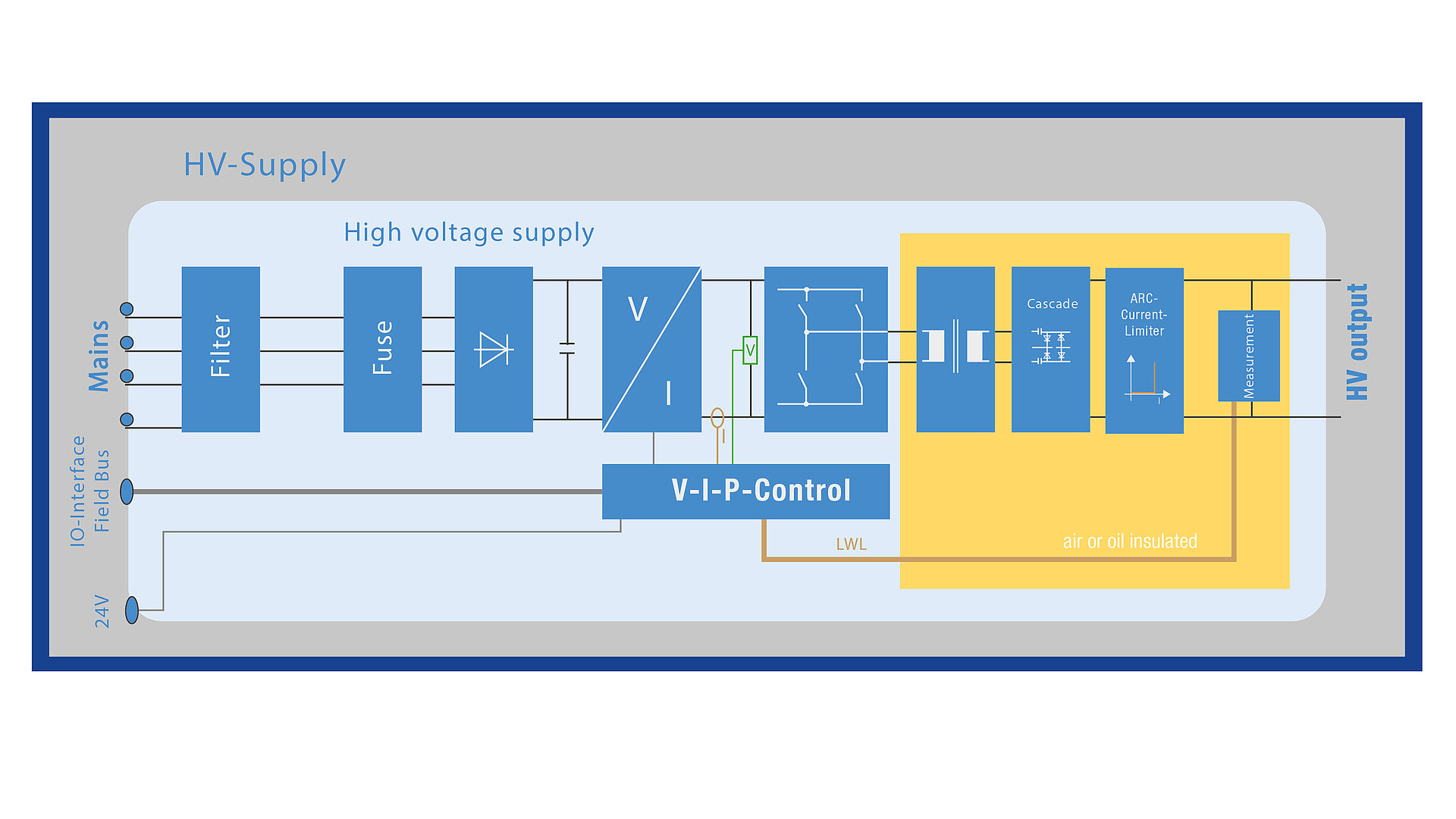 Patented arc current limitation for a stable process
Flashovers, which occur when the voltage rises, disrupt the processes and can damage the coating. To avoid these flashovers (arcs), we have developed and patented a special arc current limitation. Once an adjustable current threshold is reached, the current is limited to this value. This prevents current peaks and arcs from causing problems in the coating process.
Advantages of the patented arc current limitation
Prolonged life of filament in electronic beam guns
Processes, such as coating, run more smoothly as arcs are suppressed, instantly
Almost complete elimination of the contamination of deposited films which normally arises from the extremely high currents associated with arcs
Higher stoichiometry
Enhanced equipment reliability
Due to the very small current fluctuations (di/dt), there are fewer breakdowns. This leads to cost savingson such items as cables, filters and surge-voltage protection devices.
The arc current limiter can be configured to meet your specific requirements. Versions for continuous current levels up to 10 A or voltages of up to 150 kV are already provided
Convenient Operation via RS232 interface
With the RS232-interface the nominal values for the output can be adjusted more conveniently and the corresponding actual values or error messages can be read out easily. Furthermore the unit can be released via PC or PLC. With this RS232 service interface further adjustments and parametrization of the high voltage power unit are very easy. Two modes are available: Terminal mode or PLC mode.
In Terminal mode the power supply communicates with a simple terminal program such as Hyper-Terminal or TeraTerm for example.
In PLC mode the power supply communicates with a PLC. The PLC has to send a byte-sequence of specified numbers of bytes to the power supply. The power supply will answer with a status-sequence of specified numbers of bytes.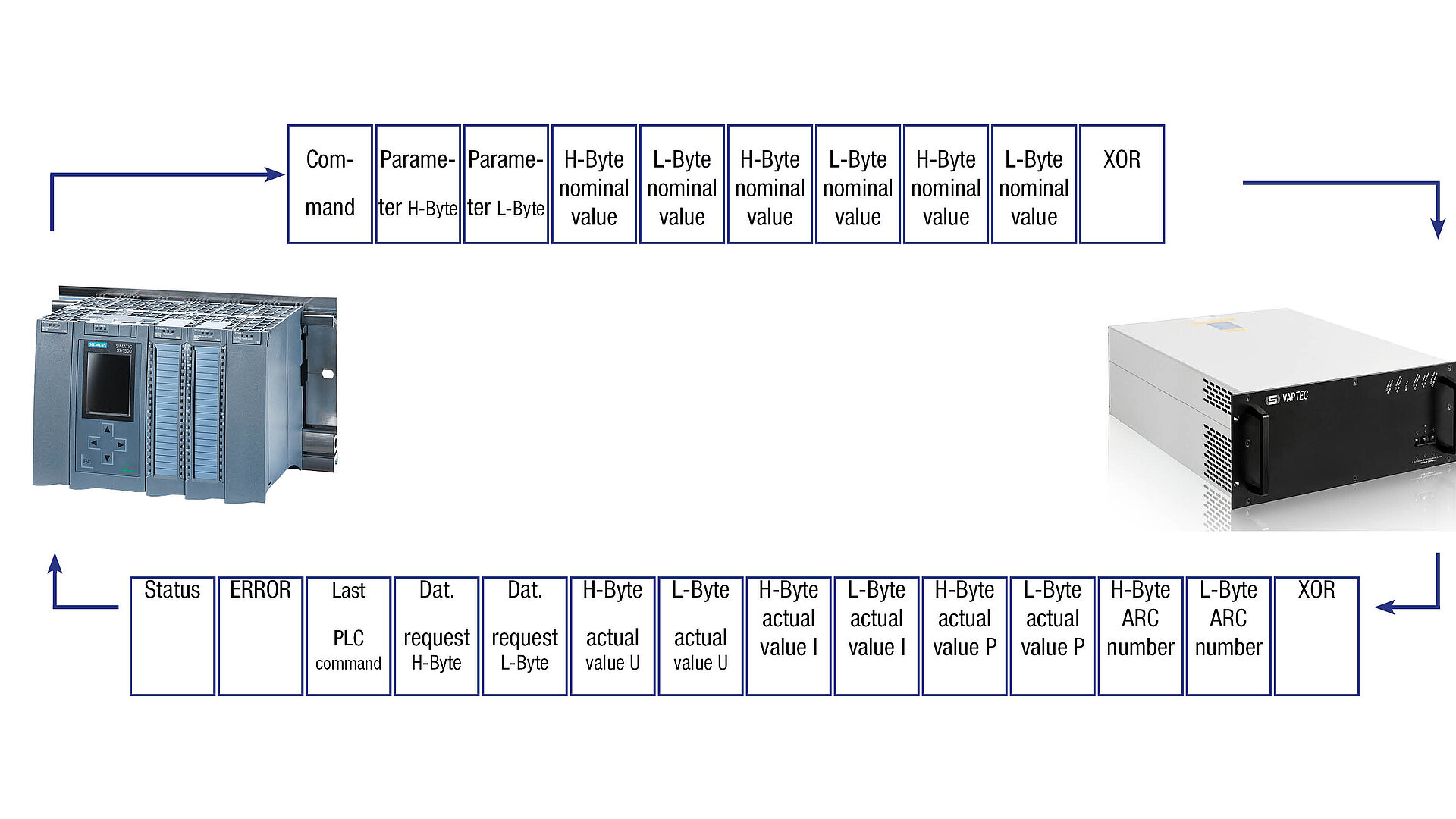 Selection table high voltage power supplies
With the following table you can get an overview of our products in the area of high voltage power supplies.
Please find further information concerning the product series by following the product teasers below.